Submitted by Darcy Higgins on Mon, 06/02/2014 - 18:49
Our Building Roots team took particular notice of a garden in Ward 22 with notice from Councillor Josh Matlow.
Why?
Because the City passed a motion making the community garden in Oriole Park the first community infrastructure project we've heard of to use Section 37 for food.
It is also the ward's first community garden, helping to fulfill the City's policy passed a decade ago for a public garden in every ward.
When we spoke to Josh he said that asking city councillors to use Section 37 it was a way to implement good food in new and established developments and parks. Section 37 is funding provided as part of the development process to projects that provide community benefits. See our developing Building Roots Toolkit for more info and how to do this yourself.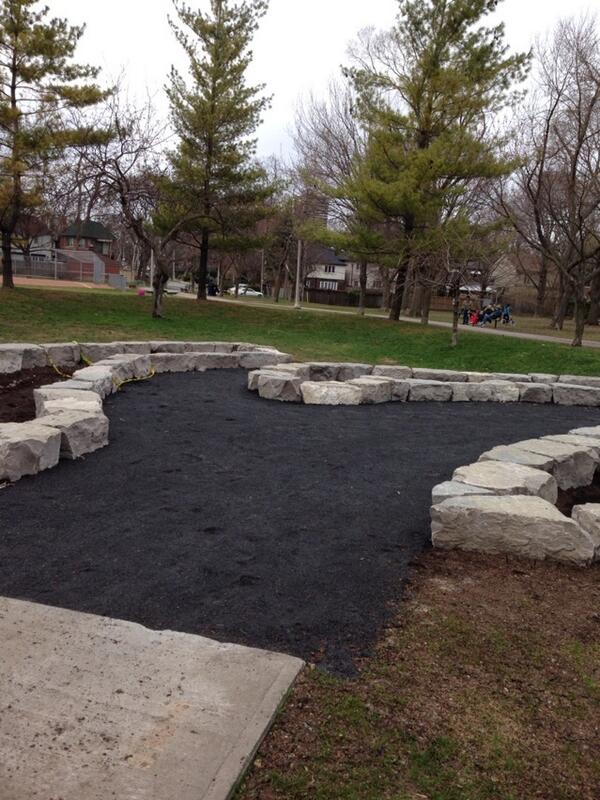 Oriole Park's community garden being built in May
Councilor Matlow met with residents in Brentwood Towers, Deer Park and Chaplin Estates residents to determine how they wanted to see Section 37 funds used. The majority voted for a community garden. Community town hall meetings also helped to carefully determine the best use of the money for the residents.
This is an excellent example of local decision-making and budgeting - and the people wanted food!
The development at 137, 147 and 35 Merton Street fully funded Section 37, and therefore the garden. Now that Section 37 for the park is allocated there will be a committee of residents who will be part of the design, implementation and maintenance of the community garden.
Perhaps local businesses will donate equipment and other raw materials, such as soil, seedlings and even labour.
We look forward to hearing more about Oriole Park and how the process will create a space that can be used by everyone.
The fact that Section 37 funds were used to create this urban agriculture initiative is a tangible example to city Councillors, planners and developers that urban agriculture and related community and commercial food infrastructure can be accomplished when we all work together.
This is exactly what Building Roots is working to make happen across Toronto. Contact us for support in making this happen in your neighbourhood.
- Lisa Kates, Building Roots consultant
Submitted by Anonymous on Wed, 02/12/2014 - 19:50
Building Roots is working to create neighbourhoods as places to grow, cook, buy and sell food.

PHOTO
Paint Box Bistro is at once a food incubator for helping new food businesses, a training program for residents of Regent Park, a bistro serving healthy delicious skills and a jazz club.
PHOTO
Another project by Daniel's is the Erin Mills Backyard Farm at a future development site owned by the developer.
PHOTO
Even though there are traditional big box stores available for grocery shopping in the area, the Backyard Farm gradually garnered a following.
By the end of the season, 35 people had subscribed to CSA boxes.
PHOTO
At One Park Place in Regent Park enthusiastic residents planned, planted and eventually picked vegetables from their gardens.
To ensure success, planting seminars and information sessions were held with the residents.
PHOTOS
TAS is another developer with a strong belief in urban agriculture.
The Farm Lot, a garden on an empty TAS lot at 369 King St W, was built in conjunction with the Detox Market and Fresh City Farms.
Herbs, kale, chard, spinach and survived beautifully in the partially shaded lot.
PHOTO
The other impressive TAS urban agriculture project was the rooftop garden in Regent Park.
Lead by Micki Mulch in collaboration with Cultivate Toronto, seventy two planter boxes were installed on the roof.
A large variety of vegetables, strawberries, flowers and the special Three Sisters Box yielded a lot of healthy food.
PHOTO
While the garden had it's challenges, such as getting all the soil and the Earth Boxes up to the roof, in the end, CRC at 40 Oaks received the bulk of a good harvest.
PHOTO
Submitted by Anonymous on Mon, 02/10/2014 - 20:01
You've got neighbourhood problems, and ideas for how to address it. You want to see some healthy food infrastructure in your neighbourhood through its new developments. What do you do?
- Contact your local city councillor! (Who is my councillor?) This is especially important during the development review process because Community Council and City Council make the final decisions on development applications, and they usually follow the lead of the local councillor.
- City Councillors are eager to secure some sort of community benefit as part of any development application that occurs in their ward. This can be done through a financial contribution through Section 37 of the Planning Act or something that is a part of the development, such as community space, publicly accessible open space or food infrastructure (urban agriculture in parks, community/commercial kitchens in community recreation centres, community food hubs).
- Section 37 of the Planning Act allows municipalities, through a rezoning application, to grant increases in height and density beyond what is permitted in the Zoning by-law, in return for community benefits. The City Planner and the local councillor decide if Section 37 benefits should be required as part of an approval. If Section 37 benefits are deemed appropriate, the planner, councillor and applicant negotiate together on the required amount and what it will go to.
Examples of what Section 37 monies have been spent on include improvements to public parks and playgrounds, streetscaping, public art and contributions to larger projects such as swimming pools and community centres.
For more information on Section 37, click here.
Remember:
- A Community Consultation Meeting is required for all Zoning Amendment (rezoning) applications and Official Plan Amendment applications. This is a key part of the development approval process to voice one's opinion on a proposal to the planner, developer and the ward Councillor.
- Community members should also get involved with any planning studies happening in their neighbourhood. These studies are designed to create a vision for the neighbourhood, which new development should ideally conform to. This is an excellent way to get out ahead of development and collaborate on proactive planning instead of always reacting to to specific development applications.
- Another excellent way to get involved with City Planning in Toronto, especially 'big picture' planning, is through the Five Year Official Plan Review and Municipal Comprehensive Review. This is the time when changes can be made to the Official Plan policies and land designations. To find out more about this process and how you can get involved, click here.
Steps to get involved:
- Talk to neighbours and fellow community builders about what food infrastructure is needed in your neighbourhood. Look at and share examples of what's been done elsewhere. Connect with Food Forward and local agencies. Ask them to help you with a food mapping exercise with neighbours. How could your foodscape be improved? Where are the opportunities? Learn what they did in Parkdale, click here.
- Is there a new development that could host what is needed? Or could a developer support a food project at a nearby community centre or park with a financial contribution?
- Look around your neighbourhood. Are there development applications? Look for the large white City signs outside buildings.
- You can also find out about development happening in your ward online (search here) - read about the proposals, find out the stage of the approvals and if there is a public meeting coming up. Contact the listed planner with your ideas.
- Ask if your Councillor is negotiating with applicants on Section 37 benefits as part of a proposal. If so, let your Councillor know what projects and improvements are priorities in your neighbourhoods. Ask if there is retail space being planned as part of the development. Ask what options are available and share ideas (affordable grocer, commercial kitchen, produce/cultural food market).
- Provide input to your councillor by email/phone, or ask to set up a meeting
- Find out if there is a planning studies in your neighbourhood (search here). Read the documents, attend meetings, contact your planner or councillor with ideas.
Back to the Toolkit