Submitted by Darcy Higgins on Thu, 04/03/2014 - 23:14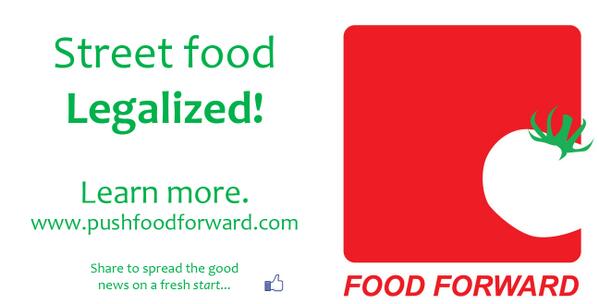 City Council has just voted to allow diverse street food in a number of ways.
A big THANK YOU to all Torontonians who have responded to our requests to contact your councillors over the years and share opportunities for good food.
The decision is a new start... but we've come very far after working on this issue for nearly three years.
Though we would have liked to see more support for new food vendors, we were pleased a motion passed responding to our joint request this week that street food applications not be denied because of a single objection.
A food cart in Lawrence Heights? A food truck on a Queen St lot? A truck with produce and ready to eat lunches in the burbs? Now permitted.
If you're looking to start a street food business for 2014 - now's the time - contact us (info@pushfoodforward.com) so we can help you figure out the options and push food forward together!
What's changed as of today and recent decisions
+ A new by-law for the entire City, finally allowing carts and trucks to be legal in many parts of the City - removes by-laws that banned street food from places like Scarborough, Etobicoke and much more
+ New food carts can apply for spots anywhere in the City except for three most downtown wards and can sell a range of foods
+ Food trucks allowed to apply anywhere in the City, with a number of exceptions, particularly not within 50m distance from a restaurant
+ Carts and trucks now allowed in private parking lots, as per agreements with the landowners - big opportunity!
+ Carts and trucks may be allowed in parks as per agreements with Parks or other City spaces
+ Likely more freedom for alternative types of vendors like mobile produce trucks
Food Forward's street food timeline:
Thanks on getting this going is owed to many advocates, councillors and City staff!
Here's our timeline of advocacy and results on street food.
June 2011 – City Council kills A La Cart program, staff group forms to create new street food proposals (to report before the end of 2011).
October 2011 – Food Forward hosts town hall on food jobs bringing street food leaders together for the first time – leads to front page Toronto Star article on mobile produce vending
March 2012 – Town hall panelists and others launch the Toronto Street Food Project calling to allow diverse street food – Torontonians react with thousands of letters and tweets to councillors asking for street food. Street Food Block Party advocates for street food with many councillors attending.
June 2012 – Staff update councillors on planning. Councillors hear recommendations from Toronto Street Food Project moved by Darcy Higgins to eliminate unfair street food employee fees and allow for food trucks and carts in private lots - Councillors vote for a report back on our motion.
Expanded menus legalized for existing hot dog vendors. (Final street food decisions to be due in November 2012)
May 2013 - Report delayed again, Food Forward launches illegal fruit stand in front of City Hall, bringing front page attention back to the issue.
July 2013 - Councillors work with several food trucks, organizers, Food Forward and Parks staff to allow food trucks in some City Parks.
November 2013 - City staff get back on track with consultations and study on street food, and councillors vote to remove unfair fees for employees of street food carts and trucks.
April 2014 - Final debate on street food leaves many restrictions on trucks and no carts downtown, but finally passes comprehensive new by-law to allowing trucks and carts around the City.
Environmental motions and future reviews passed, along with a motion prompted by Food Forward and our members that eliminates automatic immediate rejection of food truck zones from a single objection.